John Ritenour's Legacy of Leadership
It might seem like he's made a career out of pouring himself into his work, but John Ritenour's professional path has been largely fueled by his personal life. Always striving to make the best decisions for his business and his family, Ritenour leaves behind a legacy of leadership that will inspire the generations that follow.
Lighting the Path
To have anything to pass down to his children and grandchildren, Ritenour had to put in all of the work himself. "My secret to success is work," says Ritenour. Coming from a humble background and growing up in a rough McKeesport, Pennsylvania, neighborhood, Ritenour understood that overcoming his circumstances was something he would have to accomplish on his own.
That's why he started working straight out of high school and hasn't stopped since. From a local steel mill and bakery business to an insurance agency and several self-run companies, Ritenour certainly has a diverse professional background. Although his career went through a series of changes over the years, Ritenour never stopped putting in the extra hours he felt were necessary for success.
Guiding the Way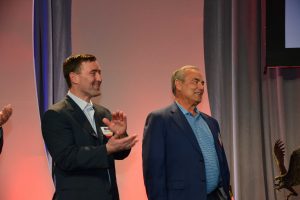 While all of his time, effort, and dedication to his business certainly inspired the people around Ritenour, it was the fact that he applied the same principles to raising his son that really made a difference. "I loved coaching. I wouldn't miss a practice, and I wouldn't miss a game. I wouldn't miss any part of Heath's life," says Ritenour.
Whether it was basketball, football, or baseball, John Ritenour was committed to making sure Heath had the coaching necessary to truly do his best. So, when Heath approached Ritenour about working for IOA, he was adamant that Heath be just as prepared before stepping into the field of insurance. John Ritenour took Heath on as a summer intern, letting him see firsthand what it was like to converse with clients, lead corporate calls, and run the day-to-day operations of an agency. From there, John Ritenour could see just how much his personal work ethic influenced Heath's.
Passing the Baton
Over the past two decades, John Ritenour has been slowly preparing for his next great transition: retirement. In doing so, he's reminded himself every day to follow these four guidelines.
Never give up
Be respectful
Be ethical
Be a partner
These are the same values that he strives to instill in his family. Because, to John Ritenour, the next generation is the future. "We started looking at the next generation and how to set this company up," he says. That's why Ritenour was proud to see Heath step in to fill his role as CEO in 2007 and chairman in 2019. Since then, John Ritenour hasn't completely stepped away from IOA, but he has been able to focus more and more on being "the best grandfather that there ever was."