Even before it became mandatory, members at the Alaqua Country Club enjoyed exclusive, private golfing. Now, as the community gradually reopens, the club and its principle owners continue to double down on their dedication to the health and happiness of every member. Take a look at the updates and improvements the Alaqua Country Club is making to provide the safest possible golfing experience.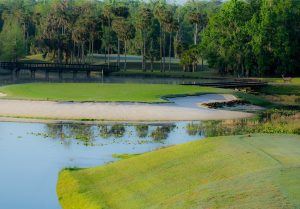 Club Precautions and Safety Measures
At the Alaqua Country Club's modern clubhouse facility, players can relax in a members-only environment. Thanks to consistent common area cleanings and sanitization practices, members can once again access the club's various on-site amenities, including a fitness center, locker room, and comfortable patio seating area. On top of creating a private, socially distanced atmosphere, the Alaqua Country Club staff remains at the ready to accommodate individual member needs.
For example, single-rider golf carts enhance the club's ability to offer socially distanced golfing accommodations — maintaining the same convenient mode of transportation with the added exclusivity and safety of privacy. This allows players to get back on the green, compete with friends, and play with associates while keeping adequate distance. In addition to sterilizing the common areas and clubhouse facilities on an increasingly frequent schedule, the on-site staff perform frequent cart cleanings in between games and rentals.
Golf Recommendations From Officials
As the Alaqua community slowly returns to normalcy, the Alaqua Country Club staff continues to implement safety measures designed with members in mind. Following advice from state officials and national health organizations, the club recommends that golfers practice safe playing by:
Regularly washing hands
Wiping down clubs and equipment bags
Using hand sanitizer when hand washing is not an option
Not sharing or trading clubs
Avoiding handshakes and direct contact with others
Maintaining social distance around the club
Leaving flagsticks in place
Safe Dining at the Restaurant at Alaqua
When the Alaqua Country Club principle owners — including IOA co-founder and former chairman and CEO, John Ritenour, as well as other residents of the Alaqua community — reimagined the club in 2009, they wanted to restore not just the courses, but also the Restaurant at Alaqua. Per government mandates, the restaurant briefly closed its dining area earlier this year to provide takeout-only food service during the height of the COVID-19 outbreak. As restrictions ease, permitting restaurants to finally welcome customers back into dining areas, the Restaurant at Alaqua has now safely reopened its doors to guests at reduced capacity.
With events like Italian Night, Burger Night, and Steak Night — along with timely holiday celebrations — the club's on-site restaurant is proud to reconnect with members and their families with safe, socially distant seating options. Now, the club's main priority is to slowly transition back to regular operations and continue providing an elevated experience for members while adhering to local and state guidelines. Ultimately, there seems to be nothing the Alaqua Country Club wouldn't do to maintain a safe, private space in the community.